Chloe's Story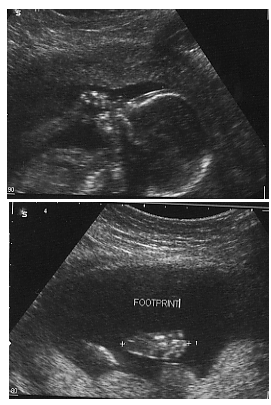 In January 2004, our family was extremely excited to find that we would finally be expecting our second child. Presley, our 3 year old daughter, had been begging for a brother or sister for quite some time. After seeing the heartbeat at around 8 weeks, we broke the news to her. She was finally going to be a big sister! During the following weeks, Presley began to kiss my belly every morning and every night and tell her baby sister that she loved her. She had determined that this baby was a girl and chose her name long before the doctors determined the gender.
At 19 weeks, we went in for the usual sonogram. We were excited to find out whether we would have a boy or girl. We didn't really care what gender our baby would be, we just wanted a healthy baby. And, of course, we needed to know the gender so that we could start getting her room ready for her. We already had her bassinet waiting in her room, we just needed to personalize it. Everything looked great at our sonogram, but they didn't get "good" pictures of the baby's heart. We left the office without any worries as they acted like this was normal and not any big deal. We were just happy that we knew we would be having a baby girl. We went straight to the store and let Presley pick out an outfit for her baby sister. She had been begging for months to buy an outfit for her baby sister, but we had to wait for the official "It's a girl!" before doing anything.
We scheduled a second sonogram at 21 weeks so that they could better see Chloe's heart. I went to this appointment by myself, not anticipating that there was a chance that something could be wrong. I will never forget that day as long as I live. It was April 28th that I heard the words, "Your baby has a structural heart defect."
At that point, I was referred to a wonderful specialist who confirmed that our sweet Chloe indeed had a heart defect, it was called Hypoplastic Left Heart Syndrome. That same day, we rushed across town to see a pediatric cardiologist who performed a fetal echocardiogram and confirmed the diagnosis. She told of us of the series of 3 surgeries that would give Chloe a good chance at life. The cardiologist believed that Chloe would live a pretty normal life, but would have to go through extensive surgeries. We were devastated, no doubt. But, we were also glad to know that there was a plan of action.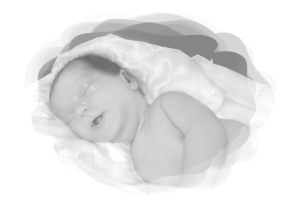 We began to do research on HLHS and researched many different institutions and surgeons before making our decision. We had many doctors appointments in the following months. It was a difficult pregnancy, but we were going to do everything possible to help Chloe survive this defect. Our whole world was turned upside down by this diagnosis, but we continued to pray and we continued to move forward with our plans for her arrival. We were ready and willing to make whatever lifestyle changes were necessary to raise our special heart child. Yes, we were scared, but we were ready.
With the help of my former boss at CompUSA and some very special friends, a blood drive was held for Chloe on August 24th. The blood drive made the news. The Dallas Morning News and The Frisco Enterprise both ran a small article regarding the blood drive. Friends and family spread the word. So many people came to the blood drive that people had to wait over an hour in the hot sun just to donate blood. Carter Blood Care called for another bus to handle all of the donors, but one was not available. Instead, they received more staff support and instructed some donors to go to other locations. We were so renewed by the many people who came out to support us. Words cannot describe our thanks to the special people in our lives that made this blood drive a huge success. And, the donors! Thank you for sharing your blood with those precious lives that need it!
During this time, we had people around the world praying for our family and for Chloe. We felt sure that we were given signs from up above that she was indeed a fighter and that she would make it through these surgeries. People we didn't even know were praying for our unborn baby. Wow. The love and support was incredible.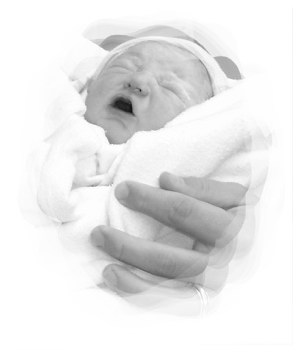 On Aug. 30th, Chloe was born by way of planned c-section. She was placed on my chest for a moment and Daddy was able to hold her for a short while. The medical team was ready and waiting to make sure she would remain stable until surgery would be done a mere 3 days later. Chloe looked chunky and healthy. You would have never guessed that anything was wrong with her. In fact, people saw her and tried to console me...She looked "too healthy to be that sick." I knew in my heart that she was much more sick than people realized, but I just smiled and let them think they were encouraging me.
Within her first 12 hours of life, she became unstable and had to be paralyzed and intubated. By the time I saw her, she was paralyzed and could not respond. I grabbed her hand and held it, but she could not grasp. I longed to see her eyes, but never did they open during her time here on earth. She could hear our voices and feel our touch, but she could not respond. And, her body had negative reactions to the stimulation, so we had to be very careful and keep our distance. It was tough to do. We wanted nothing more than to pick her up and cuddle that chunky little body. We wanted her to know mommy and daddy's arms and we wanted to comfort her. We just had to tell ourselves that we would have to work towards that after surgery was over and she was more stable. At this point we were not going to risk anything.
The next day she was baptized in a short, but sweet ceremony in the NICU. Our priest was wonderful.
On Sept. 2, 2004 Chloe underwent her first open heart surgery, the Norwood procedure. At this point, she was 3 days old. I will never forget the walk down to the OR. The anesthesiologist and my husband helped me out of my wheelchair to get up and kiss my baby girl on the head before she went into her surgery.
All day, we received updates from the medical team. The surgery was going great and the doctors were actually ahead of "schedule." At the completion of the surgery, Chloe's heart had what they called "good squeeze" and they were able to get her off of the heart/lung machine quite easily. However, when they gave her platelets at the completion of the surgery, she had a severe reaction. The most severe and profound reaction anyone on the medical team had ever witnessed. It was at this point that we received our first devastating call. Chloe was going to have to go on ECMO (life support.) We saw our baby for the first time since walking her to the big double doors of the operating room late that night. She was swollen, on life support, and open-chested.
While on ECMO, Chloe was continuing to have issues. The next day, she was taken to the cath lab so that they could get more information about her heart. As it turned out, her coronary arteries were not receiving blood flow. This was bad news. Shortly after, she was rushed in for a second surgery. Our surgeon spoke with us before the surgery and told us that he did not anticipate that she would make it. It was tough news for him to deliver and tough news for us to hear. During this surgery, they found that her heart muscle, which was only the right side to begin with, was completely deteriorated. There was nothing they could do to save her. We received that dreaded phone call...They had to pronounce her dead in the operating room. September 3, 2004 our Chloe earned her angle wings and lost her battle with HLHS.
The medical team stitched her up, gave her a bath, and made some momentos for us (a lock of hair, footprints, hand prints, and a few other precious items.) About an hour and a half later, I held my sweet Chloe for the first and only time. She already didn't look like herself. She was pale, cold, and very swollen. Nonetheless, I hugged her cold little body and held her just as if she were alive and with us. Her older sister got to hold her and hug and kiss her as did her father. All of her grandparents, two of her uncles (one of which was her Godfather), two of her great aunts, her nana and her Godmother all came in the room and held her for a brief moment. We all said our good-byes and cried together. We have one family picture from that evening. It will be the only picture of our complete family...all four of us.
Several people have asked, if knowing the final outcome, would we have changed our decisions? That's one of the few questions that we can actually answer. Perhaps we could have terminated to save my body from having the physical burden of carrying a baby that would not survive. Perhaps we could be closer to our wants and needs of having another child to love. In the end, we say YES. We would do it all over again. It stinks to have the postpartum body that is a constant reminder that I had a baby, yet I have no baby. But, with everything that we have gone through, I would do it all over again. We know, in our hearts, that we did everything that we could to help her survive. We don't judge other people for making different decisions, but we feel good about ours. We know that we didn't try to take an easier road in this journey. If we had it do to over again, we would choose the same surgeons, the same doctors, the same institution. We would give her all of our love and put all of our hopes and dreams into her.
The one thing I would change? I would take more photographs. We have no videos. I would take as many videos as possible...videos of her crying at birth...videos of her silently sleeping while she was still alive. We just did not realize our time with Chloe would be cut so short. We never imagined that she would die at just 4 days of age.
I would wish this pain upon no one...For it is the most severe and brutal pain we have ever experienced. Losing a child is something that we will never "get over." Rather, it is something that we will learn to live with. Everyday we still hold Chloe close to our hearts. We remember her in many ways and talk about her all the time. Her sister sings her songs, paints her pictures, and sends her balloons.
Our sweet Chloe touched many lives in her short time here. We will never be the same.
Fly, Fly by Celine Dion
Fly, fly little wing
Fly beyond imagining
The softest cloud, the whitest dove
Upon the wind of heaven's love
Past the planets and the stars
Leave this lonely world of ours
Escape the sorrow and the pain
And fly again
Fly, fly precious one
Your endless journey has begun
Take your gentle happiness
Far too beautiful for this
Cross over to the other shore
There is peace forevermore
But hold this mem'ry bittersweet
Until we meet
Fly, fly do not fear
Don't waste a breath, don't shed a tear
Your heart is pure, your soul is free
Be on your way, don't wait for me
Above the universe you'll climb
On beyond the hands of time
The moon will rise, the sun will set
But I won't forget
Fly, fly little wing
Fly where only angels sing
Fly away, the time is right
Go now, find the light